Curriculum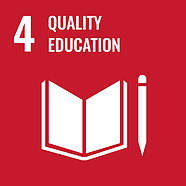 Our Education for Sustainable Development (ESD) curriculum emerged as a means to address the need we saw in merging science knowledge and practical skills to real issues we encountered in the USA, India, Myanmar, Ghana, Rwanda, Uganda, Nigeria as we implemented projects. The curriculum development and curation process reaffirmed Sustainable Development Goals (SDGs) to be a great reference for framing the issues the curricula addresses.
By presenting science that is alive and relevant to the daily lives of students, the Eco Ambassadors program is meant to engage our next generation youth in all places, so that they can begin educating their own communities about local environmental issues and start small steps to solving these issues with community action. It aims to engage interested participants in meaningful ways.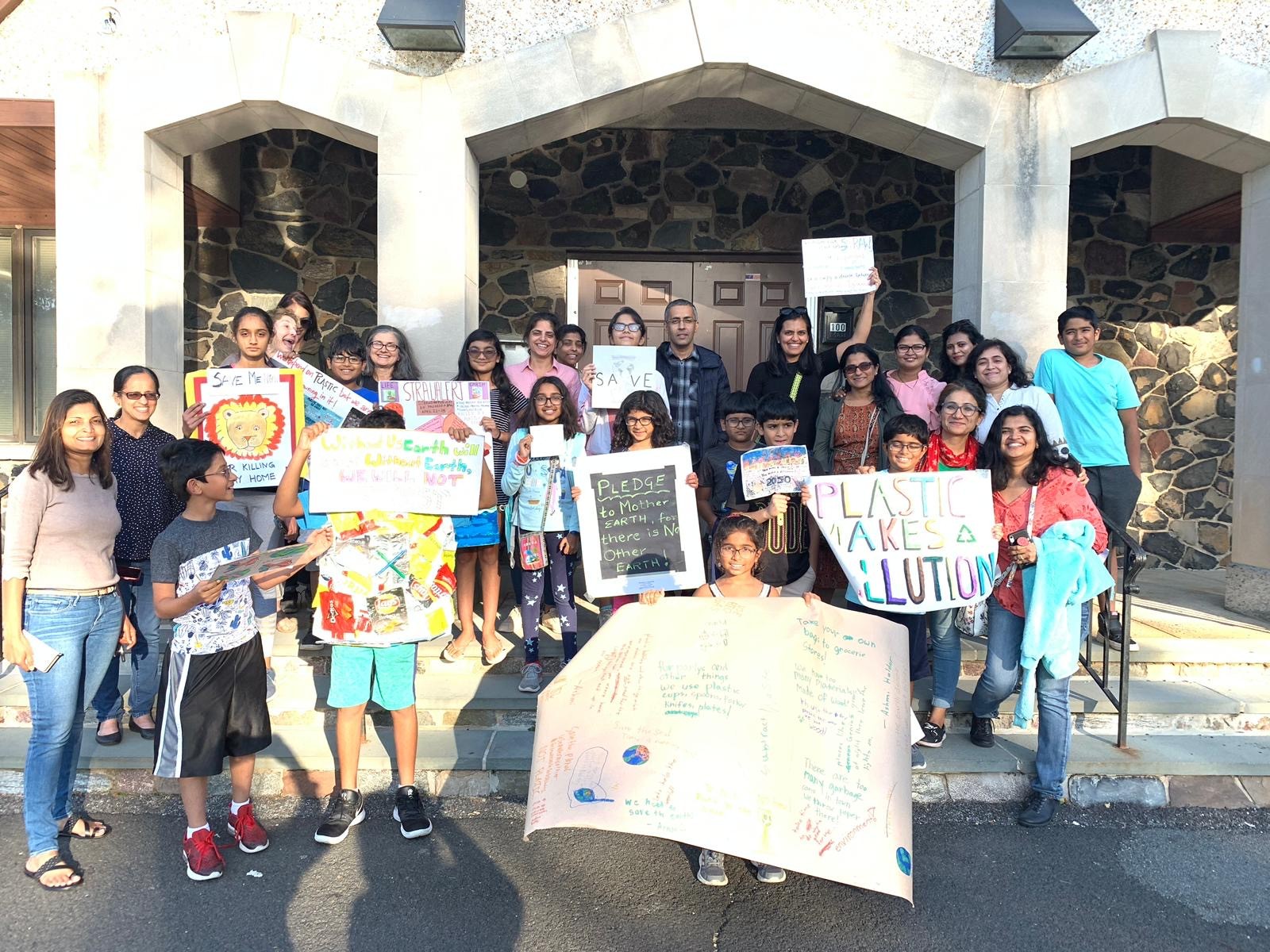 Eco Activism
With the pilot of Eco Ambassadors program initiated during summer of 2019, some levels of eco-activism and advocacy at community levels have already begun and tested with youth and parents of Millburn, New Jersey, ranging from local issues on plastic pollution, trash, compost and deforestation.
Eco Activism, especially for issues that is also a part of the broader program scope (such as plastic pollution, water quality, climate change, biodiversity), will continue by pressing the local communities to also take action (at school, community, decision-maker, government and business) levels. So far, these have been done through conversations with local mayor, school leadership and school boards. While actions and resolutions will take time for change, the advocacy and activism will continue.
Science Training
The Science for Everyday Decisions contents will be a form of capacity building for Eco Ambassadors to fully understand the scientific facts and latest research on the magnitude of the issues identified by the program. This will make Eco Ambassadors more qualified activists and advocates.
The scientists from LDEO as well as community and industry experts, and even student researchers, will present the latest research findings in various medium with curation by CSD team – this will include easily accessible content, such as online video clips, Podcasts, and we are planning for an online learning platform!
Sample Contents:
The aim of Science for Everyday Decisions: Education & Environment for Sustainable Development is to translate science research by earth scientists into easily digestible knowledge for the public and masses in all settings around the world, of all educational levels, so that the everyday implications of our footprint on our environment and the need to pressure our businesses, industries and governments for a more sustainable world—are real and felt.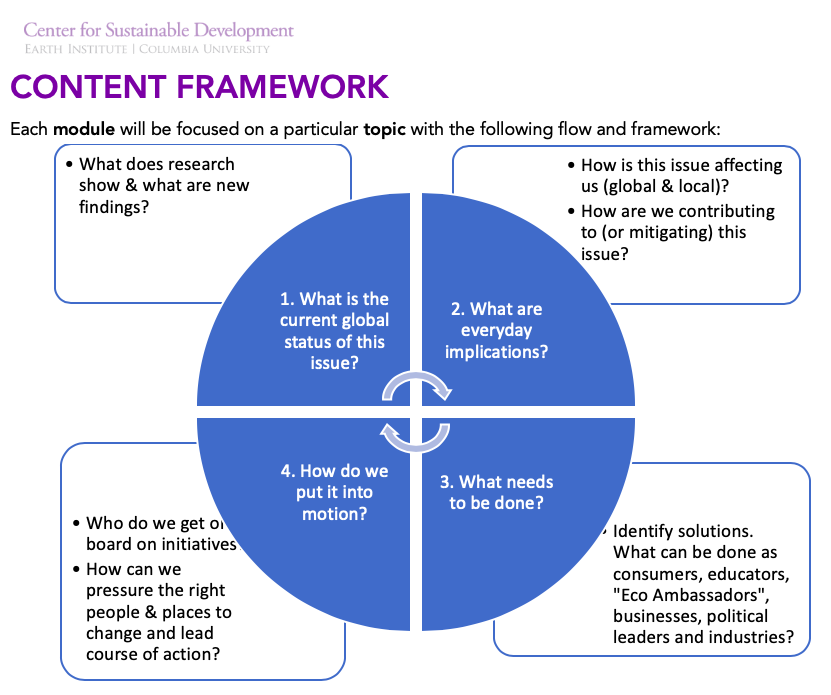 We collaborate closely with content experts who are earth scientists at Lamont Doherty Earth Observatory, Earth Institute, Columbia University, with initial inputs by Professors Joaquim Goes, Lex Van Geen and Margie Turrin. 
The content also features series of videos with practitioners, experts and activists, including youth, from various industries. New contents are continually added and you can check out the videos on the Video Library page.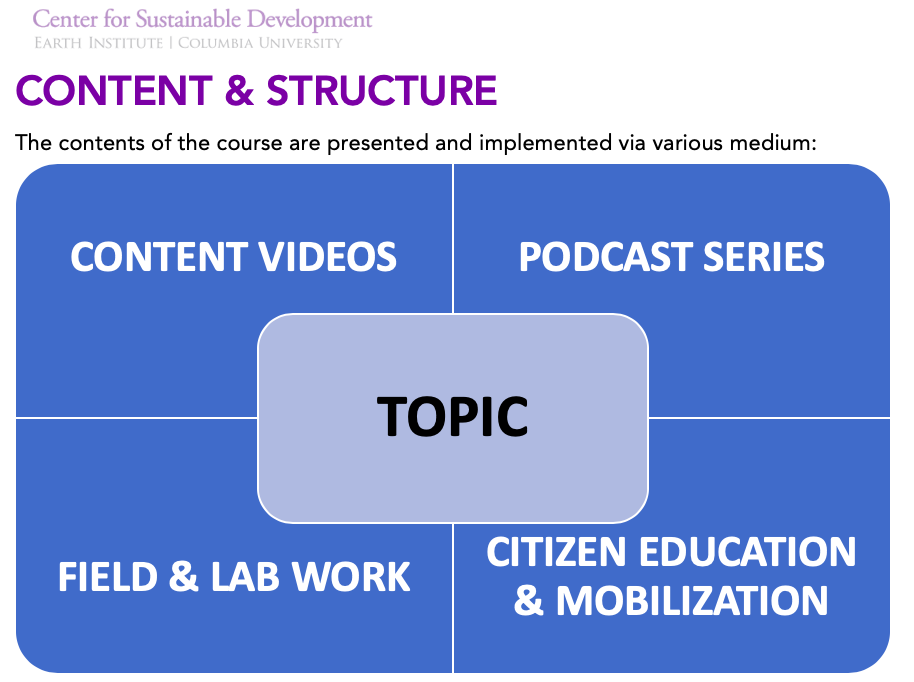 As a part of the Eco Ambassador Program, and through conversations in this series, we hope to raise awareness on the imminent issues of our time that will hopefully prompt you to reconsider your daily choices and decisions - while push for pressuring our businesses, industries and governments to take the drastic measures needed to build a sustainable world.
This Fluoride Awareness Campaign project is a perfect example of science and education can be merged to address truly critical issues that impact individual and community lives.
As a part of our broader network, Columbia University's LDEO and CSD are targeting prevalence of in Alirajpur, India, by merging science training with educating the entire community. The team trains college students (MSW students) who collect data and test water sources then inform the community. 
If you want to learn about fluoride, you can start here. Review the "Safe Water Learning" developed by INREM. It provides a basic overview of the topic. Here are some additional instructions. 
Sample Resources:
The ICT Center Model devised by Center for Sustainable Development (CSD)'s education team led by Dr. Radhika Iyengar and Infrastructure for Sustainable Development (i4SD)'s Joaquin Aviles Lopez trains young women and men on computer, English, business/financial and life skills and environmental awareness to prepare them for local employment opportunities in a solar-powered Center.
The main curriculum framework, contents and assessments are developed at CSD with contextualization of content done at site levels in consultation with local education facilitators and coordinators. While the Model plays out in various forms depending on site specifications, the ICT Center is intended to also supply clean energy to the Center as well as its surroundings. The longer-term vision is to enable income-generating activities with solar-provided electricity.
In some sites, existing vocational training centers were targeted for partnership so that the ICT Center curriculum can further support existing skills training. Rather than being a standalone curriculum, the curriculum incorporates application to real life examples and situations as much as possible, in both IT skills as well as communication, marketing, scenarios for job readiness and preparation.
Strong elements of affective education, whereby the trainees' aspirations, dreams and feelings aligned to their personal and interpersonal growth, is emphasized as one of the foundational considerations in content development. The humanistic approach of Carl Rogers influenced the framework of the curricular approach, with mental and emotional health of learners considered as the foremost criteria for successful curriculum implementation. The few elements deemed as key to a successful curricula experience as articulated by Rogers, included (Ellis, 2004):
climate of trust
participatory mode of decision making
teachers acting as facilitators of learning
helping students to prize themselves 
​To get a copy of the curriculum and lessons, please email [email protected].