New York & New Jersey Climate Education Youth Summit
Columbia University's Eco Ambassadors Program of the Center for Sustainable Development at the Earth Institute, in partnership with the National Wildlife Federation in New York City and New Jersey Audubon, is organizing a Climate Education Youth Summit for New York and New Jersey's students.This Summit is best for middle and high schoolers as well as college students, but all are welcome! Each day of the Summit will include a panel of inspiring speakers as well as hands-on, skills-oriented workshops addressing the climate crisis. Our conversations will be based on the following key questions, with a theme each day.
The themes include climate education, community organizing, action planning, communication & arts for climate, and tips from students on college and career preparation.
How can communities take up climate change related actions?
How are students addressing the issue of climate change education?
What role does education play in addressing climate change?
How can institutions help to raise awareness and change behaviors?
The goal of the Summit will be to spread awareness about the climate crisis and its links to education through fun and engaging discussions. It will also help students learn how to address sustainability issues in their communities.
Keep scrolling down for more details! 
REGISTER @ tiny.cc/climatesummit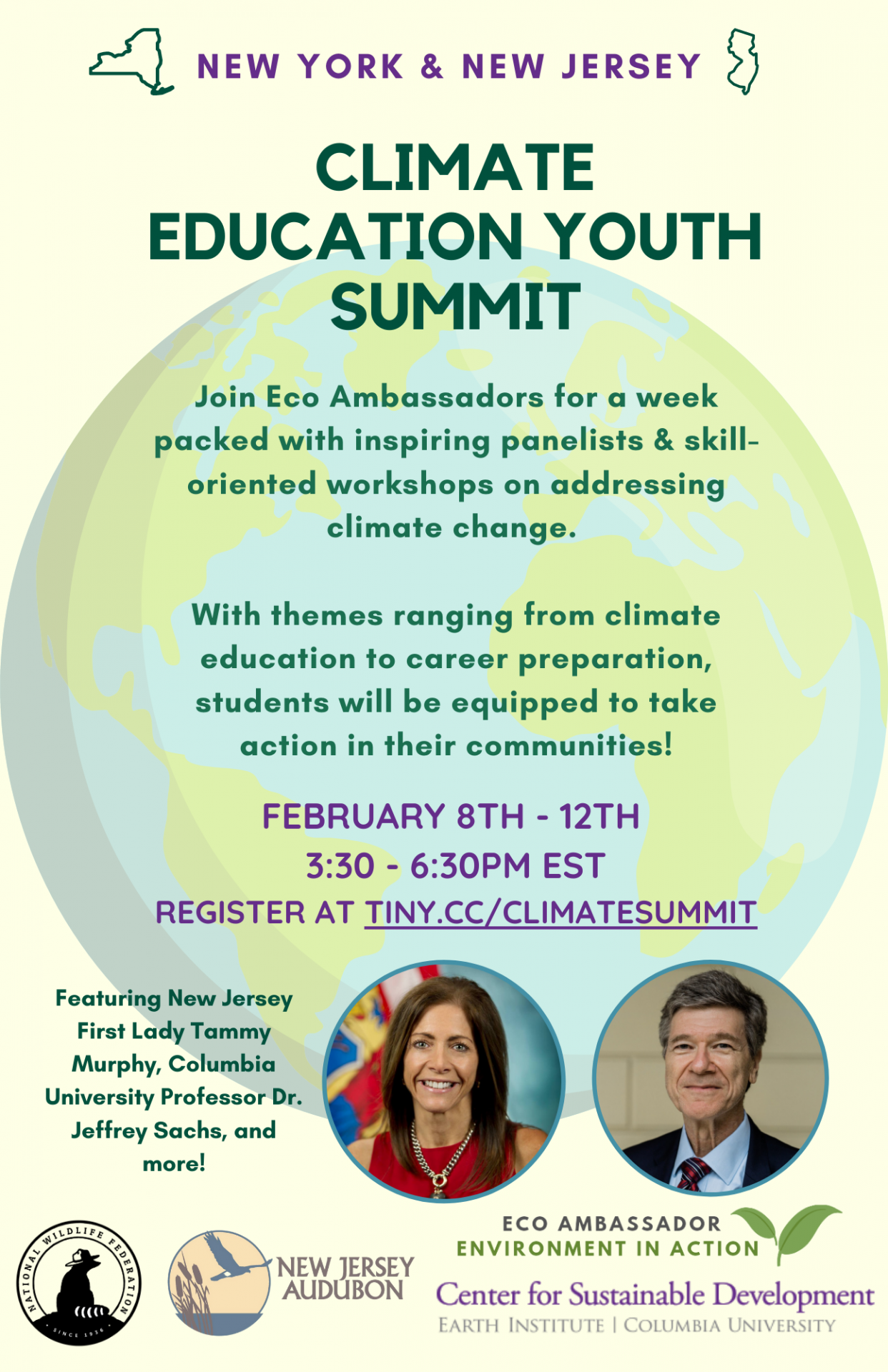 MEET THE ORGANIZERS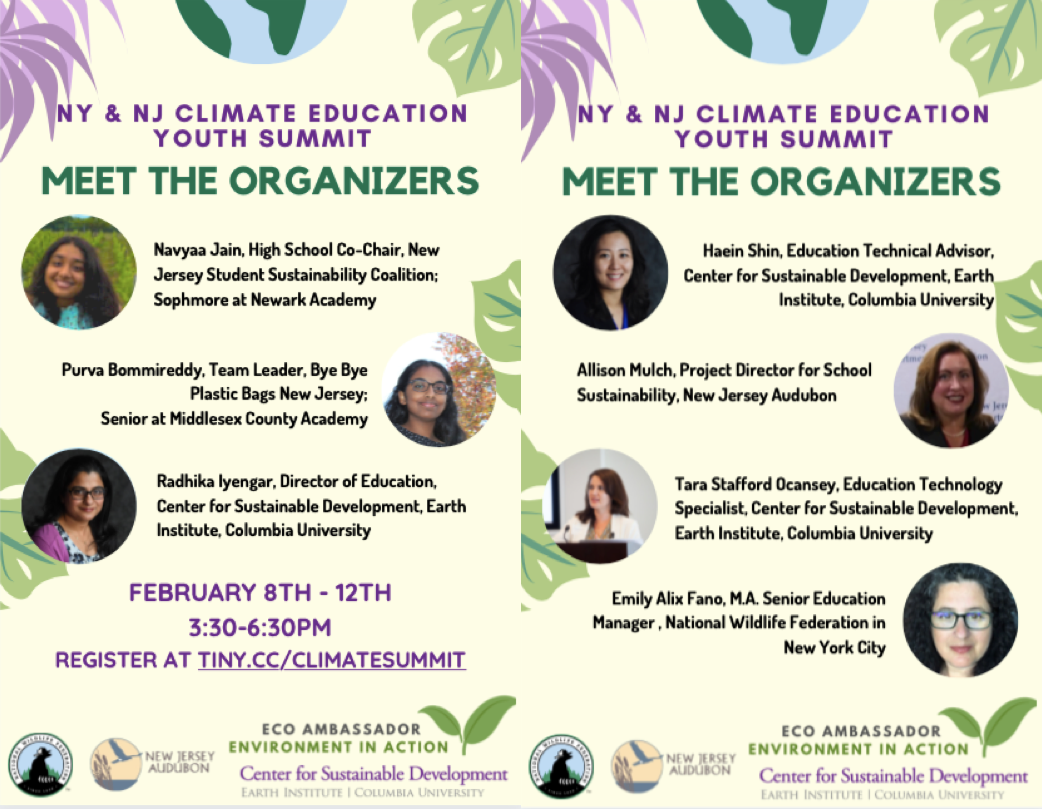 Radhika Iyengar, Director Education, Center for Sustainable Development, Earth Institute, Columbia University 
Radhika is a lifelong learner of sustainability. Her research focuses on Participatory Action Research and the power of the community to learn about local environmental issues and take charge. She uses citizen science approach as a tool for Education on Sustainable Development and Environmental Education. She is the Chair of the Environmental and Sustainability Education Special Interest Group at the Comparative International Education Society. Radhika would like to learn about factors that help to translate environmental knowledge into community action.
Emily Alix Fano, M.A. Senior Education Manager , National Wildlife Federation in New York City
Emily "Alix" Fano has a Master's degree in Urban and Environmental Policy from Tufts University, is a published author, and a trained presenter with Al Gore's Climate Reality Project. In April 2020 she was designated a NYC Climate Hero by the Human Impacts Institute as part of a campaign to celebrate New Yorkers working to create a healthier, more just and resilient City. In her role as Senior Education Manager for the National Wildlife Federation in New York City, Emily designs and manages a variety of urban environmental conservation, stewardship, and climate resiliency programs for K-12 youth. In addition to planning conferences, teacher trainings, and special events, she Co-Chairs the NYC Pollinator Working Group and convenes the Climate and Resilience Education Task Force.
Allison Mulch, Project Director for School Sustainability, NJ Audubon
Allison has worked directly with 450 NJ Schools supporting administration and teaching staff with implementation of Eco-Schools USA in New Jersey and management of the U.S. Department of Education Green Ribbon Schools program (ED-GRS) in a partnership with the NJ Department of Education. Allison oversees the state's ED-GRS Nomination Committee composed of education, government and corporate leaders, is a Nominee for the New Jersey Commission for Environmental Education, and a co-contributing author for the Building Ecological Solutions to Coastal Hazards in a partnership with the NJ Department of Environmental Protection. Allison also served as Director of the NJ Sustainable Schools Consortium at the Educational Information and Resource Center.
Haein Shin, Education Technical Adviser, Center for Sustainable Development, Earth Institute, Columbia University
Haein designs, curates and creates content for education for sustainable development as a means to facilitate conversations and trainings for sustainability practices, including Eco Ambassador Program, an education initiative to bring communities, educators and learners together for environmental action as well as training programs for job readiness, digital literacy and life skills for international youth. She started her career as a community educator with the US Peace Corps to implement education, environment, gender and health programs for children, youth and adults. Over the course of the past ten years, she has worked on project and program implementation, management, qualitative and implementation research for Monitoring and Evaluation in Morocco, Saudi Arabia, Myanmar, India and 10 countries in Sub-Saharan Africa.
Tara Stafford Ocansey, Education Technology Specialist, Center for Sustainable Development, Earth Institute, Columbia University
Tara's work focuses on supporting education and community stakeholders to influence their systems of education and governance to be more responsive to their needs, including through action research, teacher training and support, and development of teaching and learning content around social emotional learning, community organizing, entrepreneurship, and sustainability skills. Tara has developed eco-friendly vocational training programs for marginalized youth and adults in Ghana and Rwanda, and led action research projects aimed at influencing education decision-makers in India, Nigeria, Kenya, and Uganda. Prior to joining the Earth Institute, Tara worked as a community organizer with CALPIRG, helping to advance climate policy solutions including the nation's first carbon cap and trade policy, and with Arts for LA, developing an advocacy training program for Los Angeles County school districts.
Purva Bommireddy, Team Leader, Bye Bye Plastic Bags New Jersey
Purva is a high school senior studying Civil and Mechanical Engineering at the Middlesex County Academy for Science, Mathematics, and Engineering Technologies. She advocates for youth action, civic engagement, and public education around single-use plastics with Bye Bye Plastic Bags NJ and the NJ Student Sustainability Coalition. At the intersection of sustainability and innovation, Purva aims to pursue Environmental Engineering to address emerging design challenges.
Navyaa Jain, High School Co-Chair, NJ Student Sustainability Coalition
Navyaa is a high school sophomore at Newark Academy in New Jersey. Navyaa is the high school co-chair for the NJ Student Sustainability Coalition where she advocates for sustainability and climate change youth action. Working as an intern for Rebecca Parson's 2020 Congressional Campaign, she advocated for action through policy, and hopes to pursue Environmental Law and Policy to strengthen legal action against corporates.
Isabel Avina, Climate and Resilience Education Task Force Coordinator
Isabel Avina is a climate organizer and consultant based in Brooklyn, New York. Isabel's work centers climate justice education for liberation, coalition building, queer ecology, and radicalizing our conception of education. Isabel received her Master's in environmental ethics from New York University, where she also received a Bachelor's in environmental science. She is currently the Coordinator of the Climate and Resilience Education Task Force, a NY-based coalition gathered around the advancement of climate education through policy, student empowerment, and teacher support. Prior to this position, Isabel worked for NYC's Department of Environmental Protection (DEP), where she led the agency's climate education efforts, and authored their NYC-based climate education module for teachers and students citywide.